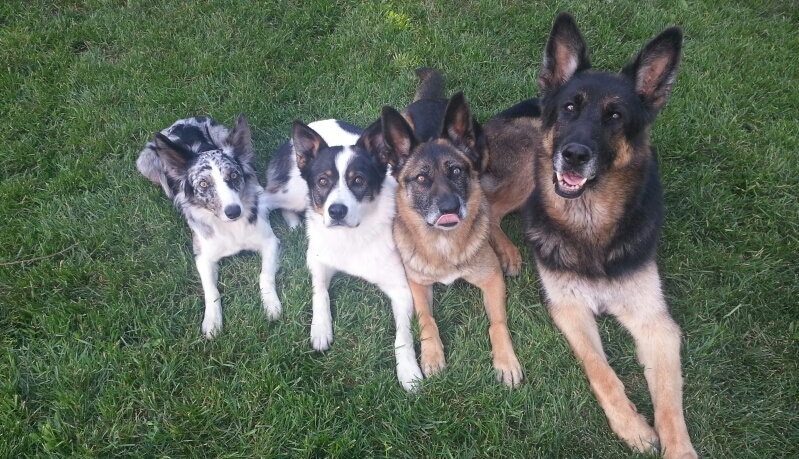 I have had a wide variety of breeds, sizes, and temperaments in the dogs I have owned. Each dog has proven to be truly unique and has required different training focuses. I have owned German Shepherds, Border Collies, Staffordshire Bull Terrier, mixed breeds, and rescue dogs.
My Current Dogs
Splash
Splash was my first dog from a breeder. She developed some fear issues at a young age which I had to work through. People and dogs were very scary to Splash and it took her a long time to warm up. Through extensive desensitization and counter conditioning, Splash overcame most of her fears and was able to begin training/competing in agility. People who knew Splash as a puppy can't believe the difference in her. Splash is more of an independent dog and likes to make up her own mind when she can. This has required really precise training and handling in agility.
Splash has had a very successful agility career. She represented Canada 4 times on the world stage and has brought home 3 gold metals as well as multiple other first place finishes.
Sega
Sega came from the same breeder as Splash. They are related with the same dad but different mom. Sega was the complete opposite than Splash. VERY VERY social and lacking impulse control. I had to do a ton of impulse control training before I started training him in agility.  As a puppy Sega wasn't a very verbal dog so that was one of my main focuses in training as agility requires the dog to respond to verbals while also running full speed. Sega, being a typical boy, took a little longer to mature than Splash did. He required more breaks (or time outs) while training to allow his arousal to come down as he had a hard time thinking when he was overly aroused.
Over the years, Sega has grown into a very consistent, dependable agility partner. His biggest faults are his contacts which is 100% my fault because I changed the criteria so many times.
Sega has proven himself and was selected to represent Canada in 2020 as he was the top 20" regular dog in the 2019 IFCS world team tryouts.
Mazda
Mazda came to me from a breeder in Texas. I was looking for a medium sized dog but didn't want the traditional sheltie that would jump the medium height class. I like both Border Collies as well as Papillons, so a Border/Pap seems like a good fit.
Mazda got the Papillon personality but the Border Collie body. I have had to bring out drive and workability in her as she would quit very easily. Playing/rewarding with toys was something I had to build as she didn't naturally have the drive for them and she had a very soft mouth. In agility, Mazda does best with short training sessions which keep her wanting more. Unlike a border collie, she typically stresses down and will refuse to work if something gets to hard. Short training sessions with high success rate keep her wanting to work.
Mazda has the sweetest temperament and is such a pleasure to live with. Everyone that meets her loves her as she is the biggest struggler.
Mazda has began her agility career and her first year competing at regionals she placed 2nd overall in her height class. She continues to build confidence and will hopefully represent Canada one day on the world stage.
 Lego
Lego is a Border Collie/Whippet with my Sega being his sire.
Lego has a very goofy, non serious personality. He's all about having fun no matter what.
Lego is still young and has just started his agility career. Given his long stride and immature personality, I will be taking Legos training  slow to ensure he doesn't hurt himself. He has started trialing on a casual basis as we work through some of his young dog behaviours.
Lego is the fastest dog in my house and I can't wait to see what is career becomes once he matures.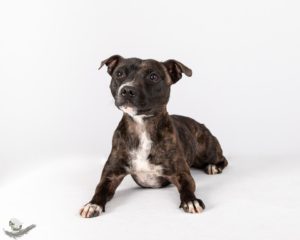 Taxi
Taxi is a Staffordshire Bull Terrier. She is a tiny girl (14") which I love. Taxi is a very driven, biddable, affectionate girl. She loves people more than anything and most of the time her love can be a bit painful.
Taxi trains like a border collie. She doesn't quit, stresses up, loves to play and is fine with repetition.  She is more food motivated than toy but she does enjoy a good game of tug.
Taxi has began her agility career and is doing well. She has what it takes to make a very competitive dog in her class. Im excited to see what the future holds for her.
Jenga
Jenga is a Border Collie/Papillon. He is a nephew to my Border Collie Sega which is why I couldn't refuse a puppy when one was offered to me.
He is a small guy maxing out around 13" tall and 14lbs.
Jenga is extremely driven and is always the life of the party. He is all about flirting and playing hard. He is more toy motivated than food motivated and he is happy to play with anyone who is willing but also fine to self entertain as well.
He has started to compete in agility and is blowing me away with his confidence and drive in the ring. I can't wait to see where this little guy will take me in a few years.