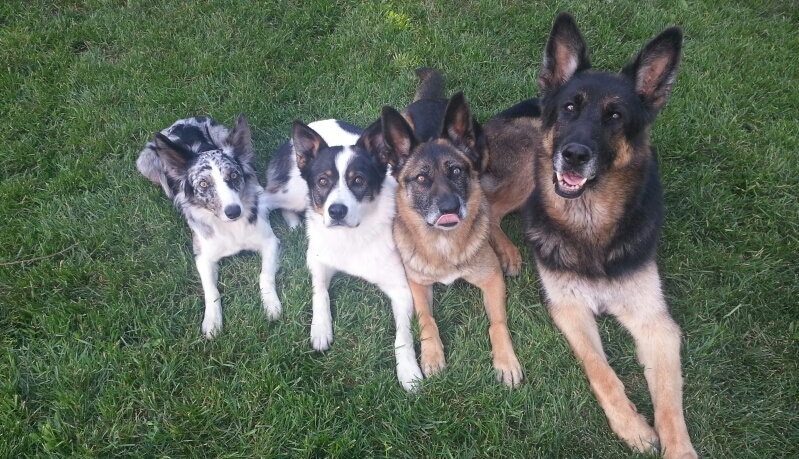 I have had a wide variety of breeds, sizes, and temperaments in the dogs I have owned. Each dog has proven to be truly unique and has required different training focuses. I have owned German Shepherds, Border Collies, mixed breeds, and rescue dogs.
My Current Dogs
Splash
Splash was my first dog from a breeder. She developed some fear issues at a young age which I had to work through. People and dogs were very scary to Splash and it took her a long time to warm up. Through extensive desensitization and counter conditioning, Splash overcame most of her fears and was able to begin training/competing in agility. People who knew Splash as a puppy can't believe the difference in her. You wouldn't believe it was the same dog. Splash is very biddable and wants to be right although I wouldn't consider her a soft dog anymore. She is known as one badass bitch!
Splash has been extremely successful in the agility world and has gone to worlds more than once and has brought home a gold medal as well as other first place finishes.
Click here to see Splashes Accomplishments 
Sega
Sega came from the same breeder as Splash. They are related with the same dad but different mom. Sega was the complete opposite than Splash. VERY VERY social and lacking impulse control. I had to do a ton of impulse control training while I started training him in agility. He has required much more work in agility compared to Splash as his arousal can get the better of him. I had to do a lot more proofing of behaviors to ensure true understanding as he struggled thinking at warp speed. Sega also struggled with verbal commands in general when he was younger so I needed to do a lot more work on these compared to some other dogs I have had. Sega is soft and very biddable.
Sega has begun competing in agility and is doing very well. I have high hopes for him in the future and will hopefully join his sister Splash on the world stage.
Click here to see Segas Accomplishments
Mazda
I got Mazda as I wanted a medium jumping dog without getting a Sheltie. I like both Border Collies as well as Papillons, so a Border/Pap seems like a good fit.
Mazda got the Papillon personality but the Border Collie body. I have had to bring out drive and workability in her as she would quit very easily. Playing/rewarding with toys was something I had to build as she didn't naturally have the drive for them and she had a very soft mouth.
Mazda has the sweetest temperament of any dog I have every owned. She loves all people and dogs and is just the sweetest.
Mazda is currently training in agility and is doing very well. Hopefully she will become a competitive agility competitor when she grows up.