Agility is a dog sport in which a handler directs a dog through a predetermined pattern of obstacles in a race for both time and accuracy. A course usually has 15-21 obstacles, like tunnels, jumps, tire, weave poles, and contacts. In a trial (aka competition or show), the dog runs the course off-leash and the handler can't touch the dog. The human half of the team relies on body language and verbal cues, to tell the canine half where to go.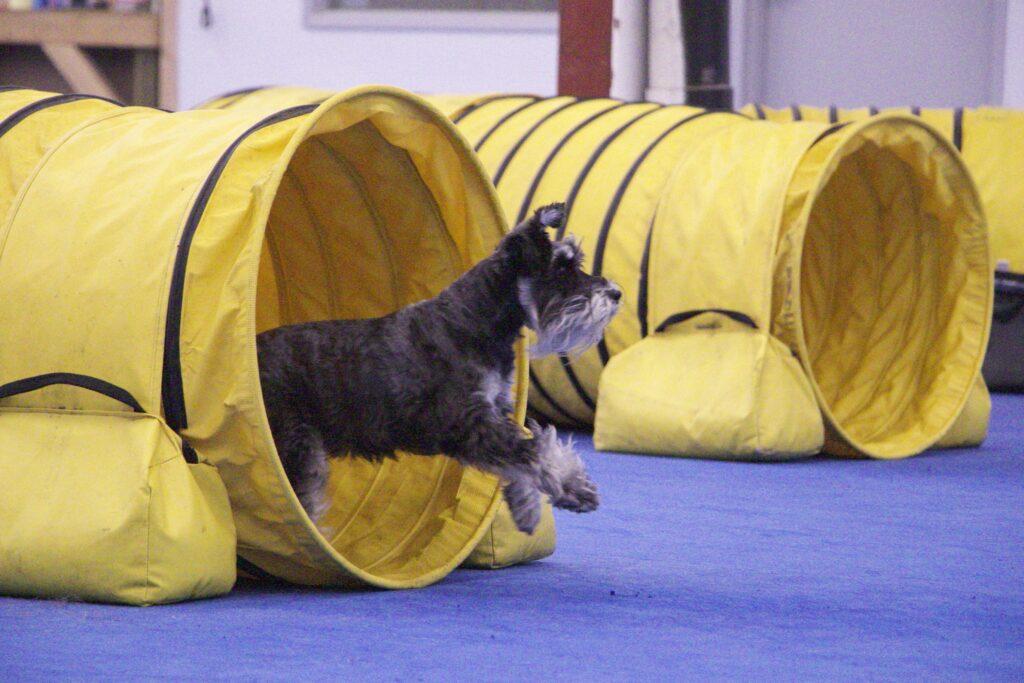 Agility is inclusive and welcomes dogs of all sizes and speeds. Dogs are broken into different height devisions depending on their size to ensure they are competing against dogs their size.
Obstacles include: Jumps, tir
e, weave poles, table, dog walk, aframe, and teeter.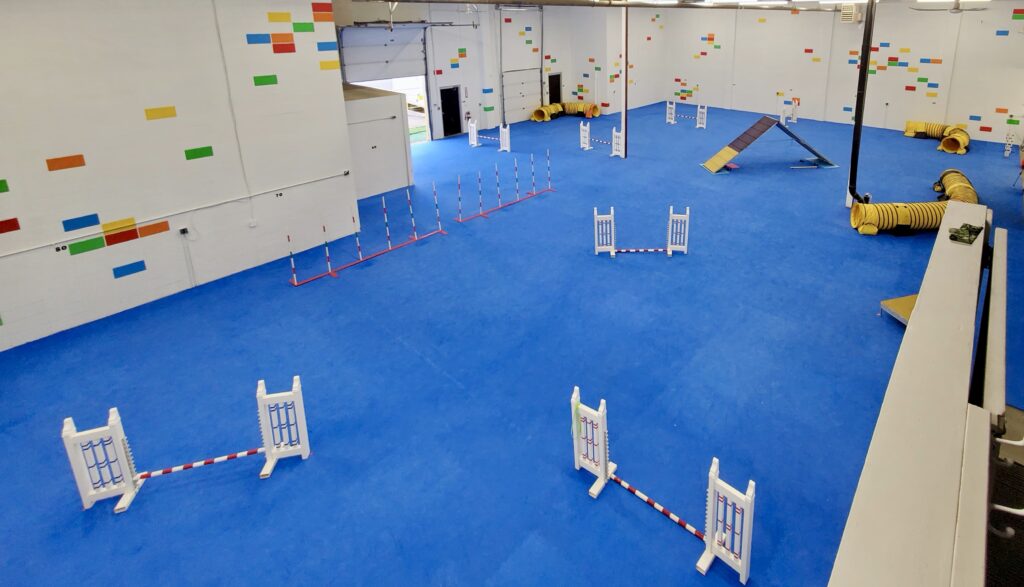 Head agility instructor, Shauna Oliver, competes all over the world with her dogs. She has brought home 3 gold metals for Canada at international competitions as well as many podium placements. 
We offer a wide variety of agility classes at In-Sync
CURRENT WEEKLY AGILITY SCHEDULE August/September SET
MONDAY
Agility Master Courses 1-2pm (August 2- Sept 13) NO CLASS SEPT 6
Agility Starter Courses 2:15-3:15pm (August 2- Sept 13) NO CLASS SEPT 6
Agility Contacts and Weaves 3:30-4:30pm (August 2- Sept 13) NO CLASS SEPT 6
Agility Beginner Handling 4:45- 5:45 (August 2- Sept 13) NO CLASS SEPT 6
Agility Master Courses 6-7pm (August 2- Sept 13) NO CLASS SEPT 6
Agility Beginner Foundations 7:15-8:15pm (August 2- Sept 13) NO CLASS SEPT 6
WEDNESDAY
Agility Skills and Drills 3-4pm (Aug 4- Sept 15) NO CLASS SEPT 1
Agility Master Courses 4:15-5:15pm (Aug 4- Sept 15) NO CLASS SEPT 1
Agility Starter Courses 5:30-6:30pm (Aug 4- Sept 15) NO CLASS SEPT 1
Agility Beginner Handling 6:45-7:45pm (Aug 4- Sept 15) NO CLASS SEPT 1
Agility Contacts and Weaves 8-9pm (Aug 4- Sept 15) NO CLASS SEPT 1
FRIDAY
Starter Courses 2:45-3:45pm (Aug 6- Sept 17) NO CLASS SEPT 3
Agility Master Courses 4-5pm (Aug 6- Sept 17) NO CLASS SEPT 3
Agility Skills and Drills 5:16-6:15pm (Aug 6- Sept 17) NO CLASS SEPT 3
Agility Competitive Foundations 6:30-7:30pm (Aug 6- Sept 17) NO CLASS SEPT 3
Agility Beginner Foundations 7:45-8:45pm (Aug 6- Sept 17) NO CLASS SEPT 3